A private, simple way to get your lost stuff back.
How it works
Stick it
Put your Good Peeps stickers on your losable stuff.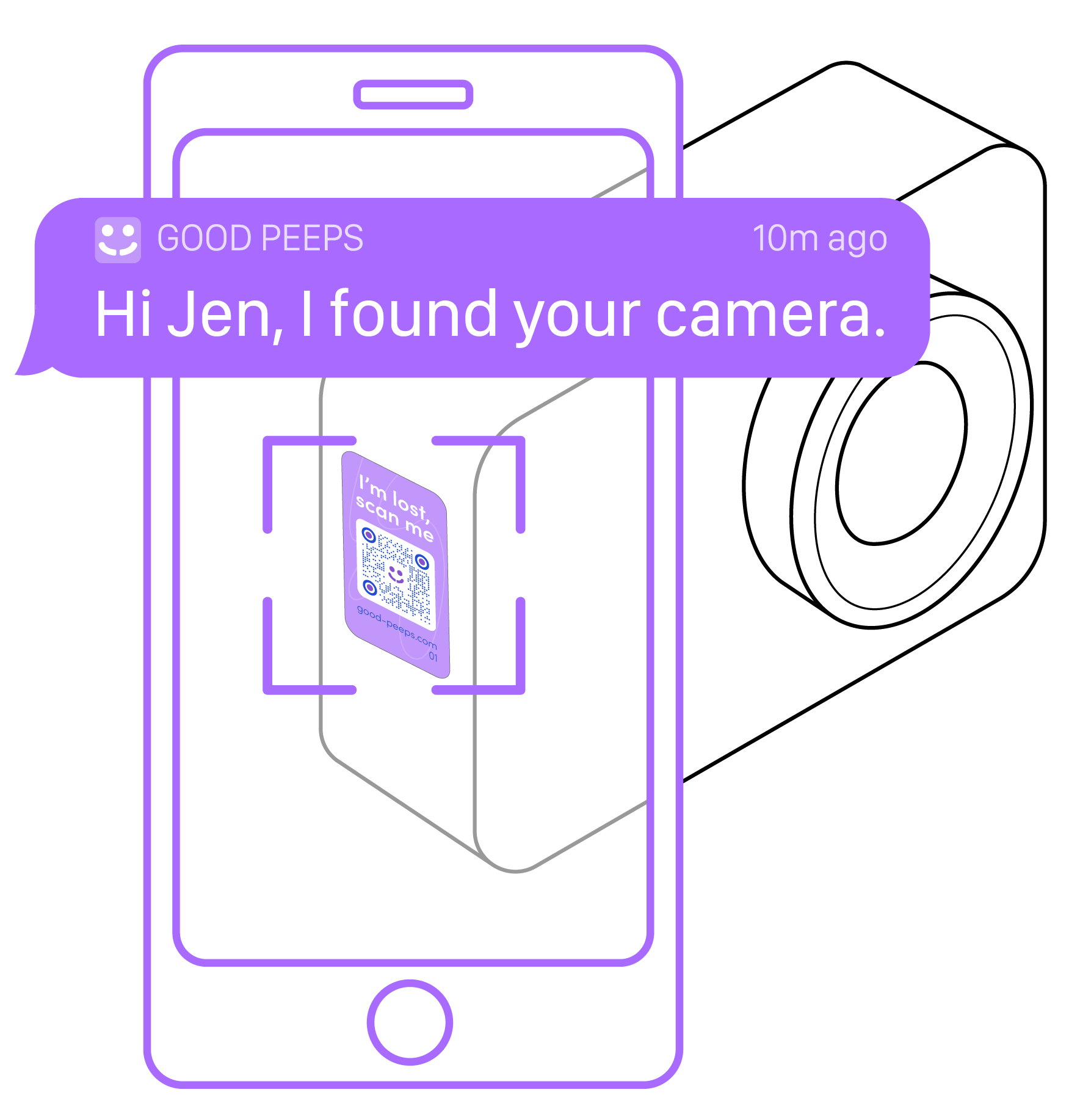 Lose it
When someone finds it, they scan the sticker and message you through our secure platform.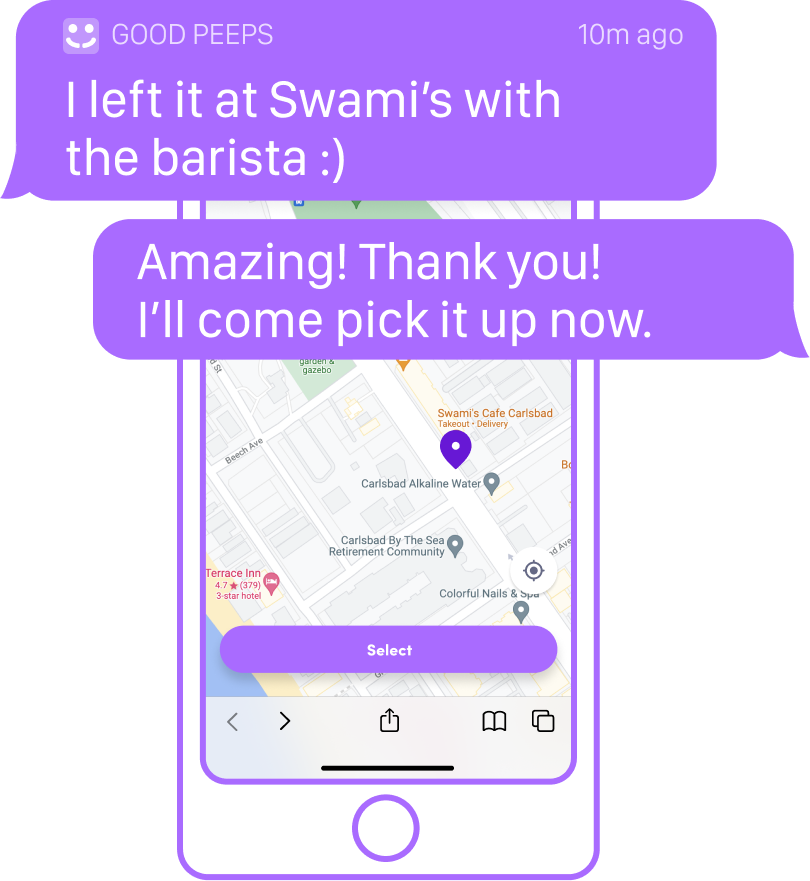 Get it back
The good peep who finds your lost thing lets you know exactly where it is.
Good Peeps never shares your personal information to anyone at anytime
In the Good Peeps pack
Your pack has 20 unique QR code stickers in different sizes and 7 hang tags. You can assign your stickers to your stuff on your dashboard.
20 QR code stickers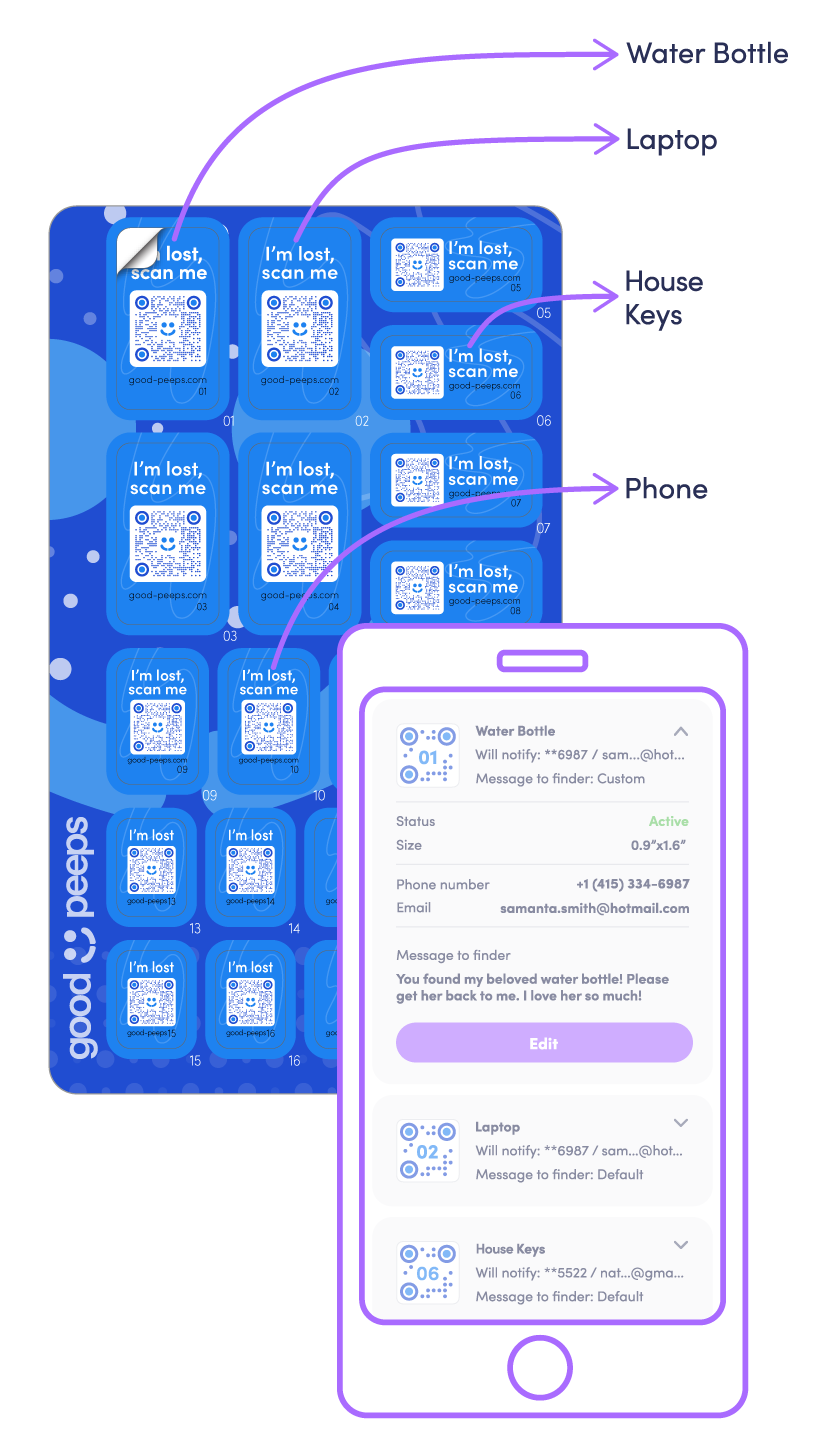 7 Hangtags for soft goods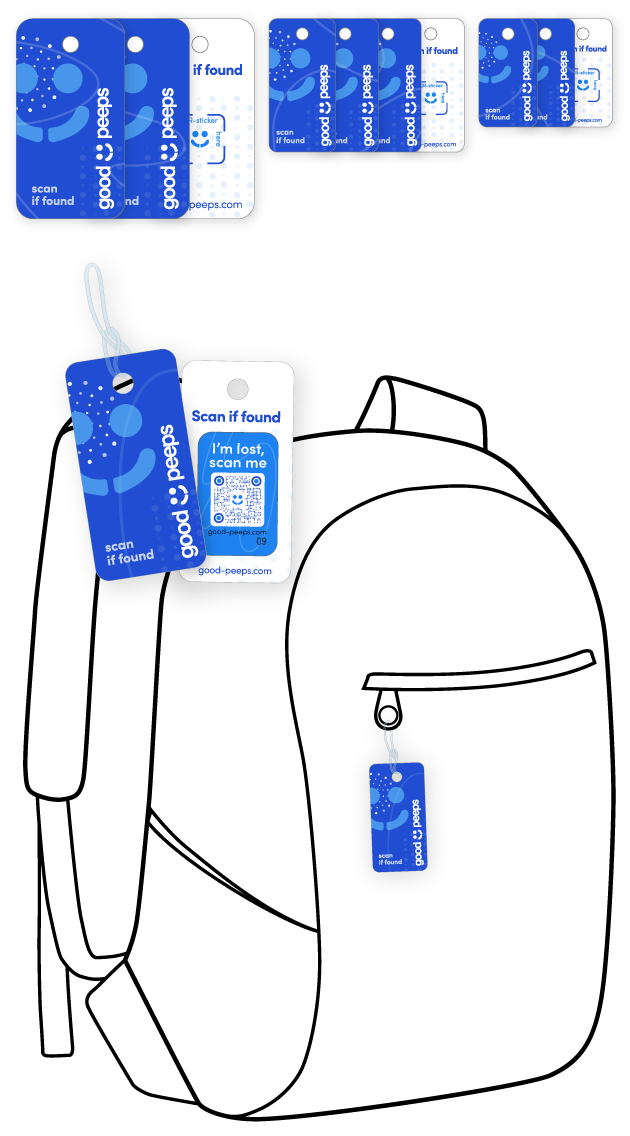 Get your stuff back
20 programmable stickers for $25
Get Your Stickers
Enjoy $10 off for a limited time!
20 programmable stickers

No batteries required

Works from any distance

Fits big and small stuff

Water-resistant

Tough, ultra sticky with a laminated matte finish

No need to exchange personal information

Your codes never expire

Noticeable and intuitive for the finder

No downloads required
Your questions, answered
No. Your personal information is kept private and secure. Good Peeps will never disclose your personal information for any reason to anyone. And anyone who finds your lost item is afforded that same protection, too.
When someone finds your lost item, they scan your Good Peeps sticker with their smartphone, and then we guide them through a simple process to send you a message letting you know where your item is.
Good Peeps is a safe way to communicate and work out a plan with the finder while staying in your comfort zone. You can decide to meet up with the finder or ask them to leave your item somewhere — like with the barista or at the front desk — and they can send you a map pin, so you know exactly where to go.
Although our stickers will work all across the world, we currently only ship in the US.
We accept returns within 30 days for a full refund. To make a return, please send us a message on our Contact Us page, and we'll be in touch to process the return for you.
Yes, each sticker can have a unique notification setting to help with sharing, but they're all managed with the same account. Currently, we only allow one user per account.
Every QR code in your sticker pack is totally unique — no duplicate, ever. This allows you set up different configurations for your assigned stuff which make sharing your stickers easier.
Just scan one of your stickers with your smartphone's camera, and you'll be guided through a short setup process to activate them.
Nope! We've found that most people are just good and will return your lost stuff without needing an incentive. It's totally up to you. You can decide if you want to offer a reward upfront by including it in a preset message that the finder will see right away.
Don't give up yet! Your stickers never expire, and they last a really long time. Hopefully, someone will come along and scan it. We like its chances.
You can buy stickers for yourself or a friend without an account. When you're ready to activate your stickers, you will need to set up a free account.
Good Peeps isn't a subscription, so you don't need to cancel or pause your free account. If you would like to deactivate your account for any reason, please contact us.
Contact Us